Ballina-Killaloe U18 Girls traveled to Kanturk RFC on Saturday 3rd December for a friendly challenge match.
Both teams are in development stage and were evenly matched. BK RFC started off strongly, gaining a foothold in the Kanturk half of the pitch, eventually the pressure proved too strong for Kanturk with BK RFC managing two unconverted tries to lead 10-0.  Kanturk did not give up, and managed to work their way up the pitch and with a searing line break, scored under posts with a converted try.  Not to be outdone, BKRFC struck back immediately to leave the half-time score 15-7 to BKRFC.
The second half was as fiercely contested as the first. BKRFC put the Kanturk line under pressure on a couple of occasions, but good defence saw Kanturk hold off the siege and then manage a try of their own after some good work out wide, closing the gap to 15-12 as the match entered the final quarter.  Again BK RFC put together some good phases and threatened the Kanturk line, again, Kanturk repelled the pressure and as the game entered the final minutes Kanturk had possession in the BK RFC half of the pitch, however a good turnover and some quick hands with the ball going out wide to the left wing, Maeve óg O'Leary for BK RFC, made a strong run and eventually handed off a number of Kanturk tacklers to score in the far corner, with the final score ending , Kanturk RFC 12, BK RFC 20.
BK RFC would like to thank Kanturk RFC for hosting the match and they look forward to facilitating a return fixture in the New Year
Many thanks to Technopath of Ballina, who sponsored our Girl's team jersey.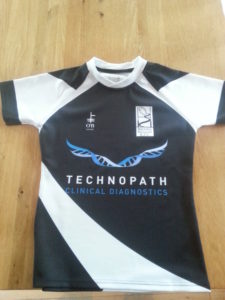 After only starting up this time last year our Girls rugby players had their first taste of a competitive game when Newport RFC traveled down to Clarisford Park last Sunday, 31st January for 2 challenge games, U18 and U15. Two great games were played with both sides showing determination and no shortage of skills.