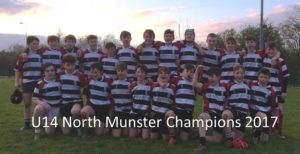 Well done to our Ballina-Killaloe/Newport RFC combined U14's who won a titanic North Munster
Conference Final in Richmond Park, Limerick on Thursday 6th April. Playing Old Crescent RFC on a
bright evening, ideal for running rugby, both sides gave their all.
BK RFC got off to the ideal start with Evan Wood putting in a strong run to score in the right
corner. Buoyed by the good start BK RFC retained possession and went through the phases, creating
a couple of opportunities but OC held firm and through a good press defence, intercepted a BK RFC
pass, although caught before the line, OC retained possession and eventually scored an good try.
BK RFC responded immmediately with again a strong run by Evan Wood, caught just before the line,
Evan popped a pass to Ian Larkin, who again offloaded to Joe McGrath to score. 10-5 to BKRFC.
Old Crescent were not one's to lie down and the rest of the half saw them put BKRFC under heavy
pressure and rewarded with 2 tries, one converted to leave the half-time score 10-17 to Old
Crescent. A strong second half was required by our lads, but it was Old Crescent who struck first
with an excellent worked try after some strong work by their forwards. 10-22 to Old Crescent.
It's times like these the boy's character is tested and they responded brilliantly, regaining
possession and after good work by both the forwards and the backs, Evan scored 2 well worked tries,
one converted by James Frahill. BKRFC now led 24-22, a lead they did not relinquish, great
fielding of the restart by Oisin Kennedy retained posses ion for BKRFC and after an excellent break
by Man of the match, Evan on the left wing, Noel McGrath was on hand to secure possession and the
ball was then recycled a couple of times before Ian Larkin dived in under the posts, Cathal
O'Donnell converted to make the score 31-22. A hallmark of these boys is their never give up
attitude and again after retaining possession from the kick off, the ball was worked out to the
left wing where Stephen Geraghty made an excellent break, again support was on hand and the ball
was quickly worked out to the opposite side, where good hands by Joe McGrath put Ronan Neill in
for the final try in the corner.
Final score BK/Newport RFC 36, Old Crescent 22.
This was an entertaining and thrilling match where both sides gave their all and left everything
on the pitch. Credit to everyone for their hard work and support throughout the season.
Ballina-Killaloe/Newport RFC U14 squad 2016/17:
Cathal O'Donnell
Braoin Cleary
Ian Larkin
Joe McGrath
Ronan Neill
James Frahill
Luke Graham
Oisín Kennedy
Padriac Duhig
Noel McGrath
Cormac Kennedy
Eoin Gilmartin
Cathal O'Sullivan
Sam Lloyd
Evan Wood (Capt)
Callum Byrne
James Sutton
Ben McInerney
Omar Erdim
Shane Murphy
Stephen Geraghty
Aidan Ryan
Jamie Newton