The Under 11's took part in a Blitz in Scariff on
Sunday
26th November. Beginning their day with a comfortable win against  Garryowen, the team lined out against a well drilled Shannon side. BKRFC conceded a soft early try and it looked like it could be a difficult game. However with captain for the day, Zac Dillon finishing off a great team try BallinaKillaloe showed great character to turn the game around and  win by a single try. Their final game was in worsening conditions against the hosts who took the lead in the second half. Ballina Killaloe defended courageously and worked very hard for Brendan Minogue to get their reward drawing level with a controversial TMO decision in the last play of the game.
Well done to all the boys!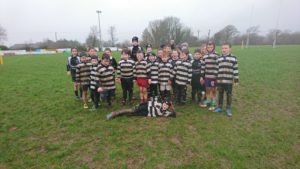 Also, the parents of the Under 11s  who don't get enough credit for braving mud, tears, blood(once!) rain wind and almost sub zero temperatures to cheer on this great young team.Thank You!