Ballina Killaloe RFC U12s played in a blitz, hosted by Old Crescent, on Sunday 1st December 2013.
We fielded 2 teams, but unfortunately one of the teams was weakened when 3 players got sick Saturday night and weren't able to play. However that team played 3 matches, getting 2 players from opposing teams and handled themselves very well. They played 2 Old Cresent teams, going down in both games, 5-3 and 3-2, but fought back well in both games. However thay saved thier best for the last game and beat UL Bohs 4-2. Gearoid Rogers, Josh Egan, Jack Mcevoy and Brian Cahill shone for BKRFC.
The other team had a full turn out and had a very succesful outing, winning all 4 games, beating 2 Old Crescent teams 3-1 and 5-3, then going on to come from 2 down to beat Ul Bohs 6-2 and Ennis in the last game 5-2. Tadhg O'Shaughnessy had one of those days when everything stuck and scored 7 tries. Ivor Larkin's work rate around the pitch was second to none, while David Grace crontrolled the back line very well. Christopher Ryan also showed a clean pair of heels running a few tries.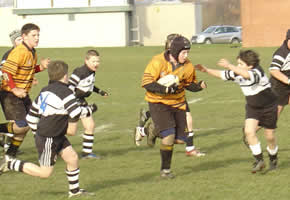 On Sunday 25th September the u 12`s had their first blitz of the new season. Hosted by Ballina / Killaloe the blitz took place on the new training field near Clarisford. Despite heavy rain the night before and during the day the pitch held up very well and great credit is due to Joe Gilmartin for the work he has done in preparing the pitches and car parking.
We were up against teams from Abbeyfeale, Newport and UL Bohemians. We played a strong Abbeyfeale team in the first match and despite being behind for long periods of the match we won 4 tries to 3. It was a very physical game and we were delighted to come away with a win. In our second match we played Newport. This turned out to be an easier match and despite Newport's best efforts we were too strong and won 6 tries to 1. Our last match was a very exciting affair against a strong UL Bohs team. We managed to win this match by 2 tries to 1 with our tries coming from George Keely and Cian O'Donnell. Well done to all the players and especially Paul, Dylan and Rowan who taking part in their first blitz. Let's hope this is a good omen for the rest of the season.